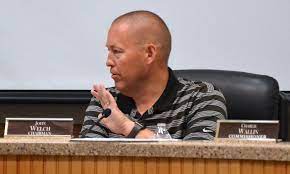 Josh Stein Filed against County Commissioner John Welch
Over the last month their has been a lot of back and forth regarding whether or not Watauga County Commissioner John Welch is fit to keep his seat after taking up a second residence in Virginia.
Last week we covered how Superior Court Judge Gregory Hayes said he believed their was sufficient evidence to conclude Welch was no longer living in Watauga County. Hayes sued North Carolina Attorney General Josh Stein for not taking proper action against Welch. As of now Stein filed a complaint against Welch saying he violated N.C.G.S 1-515. This statute says "When a person usurps, or unlawfully holds any public office within this State action must be taken to make a forfeiture of his office."
Watauga County Republican Chair Bill Greene said he is surprised but thrilled that the Attorney General followed Judge Gregory's order. This matter will finally be put before a judge so that the truth can come out. Hopefully, this will happen with enough time so that the people of Watauga County can elect Commissioner Welch's replacement and not the remaining four Democrat commissioners.
---